This month we are celebrating gratitude at Dare 2B Artzy! Create a piece signifying something or someone you are grateful.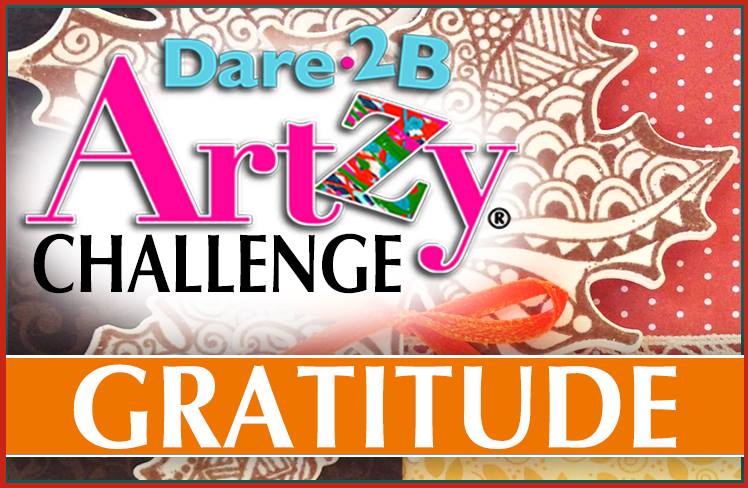 Make sure to head over to the blog for all the rules and regulations so you can enter for a chance to win D2BA goodies! I know I would be grateful for those!
For a little inspiration I am sharing a gratitude journal I started last year and will be trying to continue this year as soon as UPS returns it to me. (GRUMBLE) I know not a very thankful attitude, I am a work in progress and I am working on re-focusing after a few bumps in my personal journey through life.
Here is a quick peak at what it looks like inside. I really was just attempting to write down one thing I am grateful for each day. Sometimes a single word or name other times a phrase or thought.
The outer cover is a recycled leather that I love the feel of, and the book I chose has graph paper inside so perfect for a little daily hand lettering practice. Which I also need to get back to…the list is long. I decided to take some old art work off the cover, you can still see the remains, but I am OK with that. I then stamped the cover with several stamps from the Tangle Leaves set from Dare 2B Artzy.
The Totally Black Premium Dye Ink worked incredibly well on the cover and turned out a rich black. I then colored the images with my Copics. I tested color first to find the colors I wanted to use:
Then started in on the leaves:
The colors blended extremely well on the unique surface and the Ink sat solid!
My journal needed a new look and the beautiful stamps from D2BA were absolutely perfect! Make sure to check in again on Thursday as I will be sharing some cards made with the same beautiful set!
As you begin your November begin to count your blessings and find joy in all that surrounds you.
Have

a

Happy

Colorful

Week

!