Ship Shape is the name of game this month at D2BA. So I am off to create a "shaped" card. I was a little at a los here as I do not have many die cuts and in fact only have 5 or so total. None of them are base shapes so I was really unsure where to go with this challenge. I happened to be playing fo
r the weekend with crafty friends and Amanda encouraged me to look through her wonderful stash. As I was looking through though I just was not seeing something that I wanted. I figured I could start with a shaped die cut and then add my flowers or stamped image hanging off the edges, and when I described this to the amazing Amanda she said why not just make the shape of the stamp the card?
Hmm…now why didn't I think of that. I am a fussy cutter extraordinaire! So I started with one of my larger stamps from Dare 2B Artzy out of the Big Bloom set and used my stamp platform to get it onto my paper.

Next I did A LOT of masking and stamping:
I did about 4 rounds of stamping total with masking in between to coverup the edges of the already stamped areas. I used post-its to do my masking. Then I added a sentiment and since this is black just added this layer right on top!
On to coloring, yay! Here come the Copics!
All the doodled images at D2BA work great for Copic and very little shading goes along way. Next I fussy cut my image and adhered it to a yardstick base and fussy cut again!
I cut one more layer using this last step as a guide. I cut out a piece of patterned paper from the Fields of Joy set since I used those colors for my inspiration. I trimmed this piece down further so it will be able to sit inside the card. Don't adhere it yet though!
I folded a piece of white cardstock and placed the fold just below the top edge of the flowers then traced and trimmed my card base.
Next trimmed down the patterned paper and added it to the inside.
Woosh! all done! Lots of trimming, masking and coloring but boy do I love how it turned out! Thank you D2BA and Amanda for the inspiration!!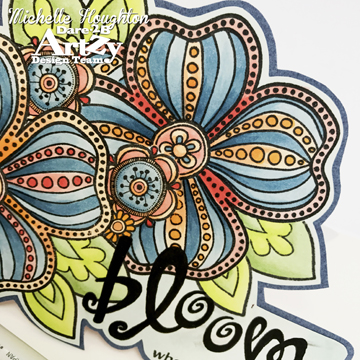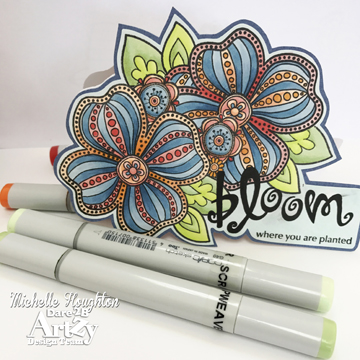 Thanks for checking out the whole process, and make sure to head over to D2BA for all the details of this mount's challenge!
Have a Happy Colorful Week!