Archive for October, 2016
So a while back I introduced the Gasenfude pen from Copic. It is a nylon brush pen that has a rich black ink that is compatible with Copic markers. Yay! Since then I have been doing a lot of brush lettering practice with it.
If you have not yet heard we are introducing a hand lettering workshop for the 2017 season and I am trying to "brush up" on my lettering skills ha ha. The Gasenfude is a great practice tool for me because it takes A LOT of pressure control to get the lettering right. or at least somewhat presentable. Mine a certainly not perfect, but the Gasenfude is helping me get better!
I am thinking of trying to do a gratitude journal through November and only allowing myself to use the Gasenfude to keep me progressing and practicing!
Then I was TOTALLY inspired by both Jennifer Dove and Michele Boyer and there creative use of the Gasenfude pen. They both created images and colored them in with their Copics. Jen even shared the image she created with all her viewers (over at her blog linked above hint hint)
I figured what a spectacular idea so I created a small pile of 5 winter/holiday images that I will debate weekly at my blog and have a photo tutorial to go with each over at Copic In The Craft Room. Here is a sneaky peek of what I came up with.
Nothing fancy, just quick easy and fun. I love the varying thicknesses that the Gasenfude creates and the hand drawn look that it showcases on the images. So the first of these will debut Thursday November 17th and run 4 Thursdays in a row, yes even Turkey day. There might be a 5th just not sure if I am liking one of the images.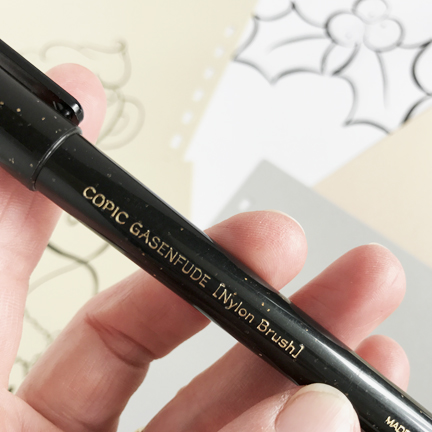 Any how just wanted to share my continued experiences with this new product from Imagination International, Inc.  If you would like all the facts and figures on the product check them out at Imagination International, Inc. right HERE.
Have a Happy Colorful Day!
There is a new color in the Copic Multiliner line-up, Lavender. I LOVE Copic Multiliners! I love the different nib sizes, love that they write so smoothly and particularly that I can color over them with Copics!
I use them in my day planner, to draw doodles, to sketch and then color with Copics. I usually have one in my purse and backpack as well as attached to  my planner and sketchbook.
To feature the newest color in the collection I picked out a beautiful image by Jeremiah Ketner and colored it using my Copic sketch markers and Lavender Multiliner.
 Here is a close up so you can see the detail of the Multiliner work:
For those of you that are still scratching your head a bit I even filmed my coloring of this image so here is a link to the video as well:
I know this is a pen that will pop up in my work regularly AND now that we are focusing in on one of our new Coloring Workshops for 2017, Hand Lettering I am excited to add some color to my hand lettering practice as well!
Make a note to check out the Multiliners if you never have before. If you are regular Copic user they really are a nice companion tool to your Copics. You can find all the details over at Imagination International, Inc.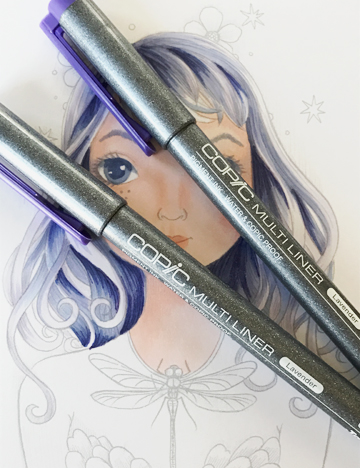 Have a happy colorful day!
As we continue into the October month, and I have managed to check a few MAJOR projects down to size I have had a great time going through my stamps to collect a group for fall and winter videos over at Comic In The Craft Room. This week I am featuring a digital stamp from an artist that I discovered way back when I was first starting with Copic markers. Jayleen Weaver, or GuruKitty as she is known on-line is a FAB-U-LOUS marker artist and Comic genius and has a fun playful style in creating characters. For a short while she even created a few digital stamps.
Unbeknownst to me she is no longer creating digital stamps. I always TRY to use stamps that my followers can still get and play along with me on so I did a hunt to find her on-line again and discovered this fact. BUT, I did make contact and ask if it was OK to use the older stamp that I still have and if I could direct people back in her direction. She said not only would that be fun, but that what the heck she'd even let you all have the stamp! So you have permission directly from the artist Jayleen Weaver to copy the image below and use it in your art. Like any rubber, acrylic or digital image she would GREATLY appreciate that if you post or share your art that you give her credit for her art! And if you have a friend that would like the image have them come this way and pick it up for themselves, don't share the blank image on your blogs or on Pinterest or other social media outlets PRETTY PLEASE!
You can find Jayleen Weaver at www.gurukitty.com and can credit her there as well.
Here is the video link over at YouTube with the coloring I did:
And here is the finished card :
Both Jayleen and I would LOVE to see what you create with her so if you would like to share give us a link to your work here or over at Copic In The Craft Room!
Have a Happy Colorful Week!