Archive for September, 2016
So I color A LOT! Like really A LOT! I create a video and photo tutorial each week, I travel and teach a weekend full of classes most months as well as teach classes locally about once a month. To tip it off I am creating new manuals and then of course I just like to color so I try to squeeze in some fun coloring just for me every once and a while!
Then I end up with a mountain of images just sitting. So I finally break down and mass produce cards. I have a process and thought you might get a giggle to see how I do it. My cards are not always the stunning works of arts that I would like them to be, but I get'er done and besides they have pretty art work on them right? That counts right?
1 – I start by pairing a large group of images with a card base color and then at least one or two coordinating papers to go with it.
2 – I run my images through my Brother Scan and Cut if I want them fussy cut. Some will just get trimmed down, but lots will get fussy cut and the Brother scan and cut can do a whole group all in one pass!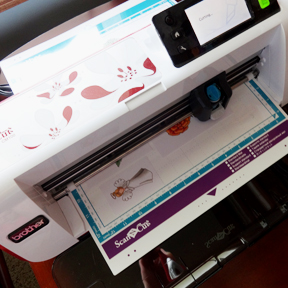 3 – Then I am ready to start assembling cards, I try to find a couple trims and patterned paper sometimes to go with images.
4 – I fold all the card bases and attach all the patterned paper or card front layers. I often will use the X-Press It broad tip glue marker because it is easy, fast and a great adhesive.
5 – Then comes the fun part I add the images and just one or two little details to add a little life to the card. I often find myself reaching for both the broad and fine tip X-Press It Glue markers since they are quick and easy and can get into all those small little details. Again I keep my cards SIMPLE. But then I have a stack of cards for any occasion and can pull them out for happy mail at any time! If you are interested in the X-Press glue pens they come in 3 sizes and can be found right HERE on the Imagination International, Inc. web page.
Hope you have had time recently to be crafty no matter what you created!
Have a Happy Colorful week!
One of the questions we get asked most often in Copic classes is how do I shade things? Where do I put the light source, then where do I go from there?
If you are person who likes a simple straight forward guide to have on hand this book is for you!
Marianne Walker created this book with those questions in mind. She focuses in on the essentials and give you a compact guide to creating shading and shadowing. It is a great how, and why book that can become your go to reference when facing tricky lighting situations.
One of the pages I love the most is a reminder of how to break a complex shape, like a person, into the basic shapes for shading.
I can even use the tips and tricks on shading faces. It is all in there. The images used below are from DanaClarkColors.com
I love how straight forward and no nonsense the book is and how easy it is to find a plethora of useful tips and information on lighting, shading and shadowing.
This week at Copic in the Craft Room I colored the boys face above and talked about how I used the book as a reference as well. Here is that video if yo are interested:
You can get the book right from the Imagination International, Inc site.
Hope you have a happy colorful week!
Did you know that there are only 6 Copic Coloring Workshop weekends left in the 2016 season? Make sure not to miss these fun, informative classes when they hit your vicinity!
I will be in Sacramento, California in just 3 short weeks and I still have spots left…SO COME PLAY WITH ME!
All three classes are a blast and have amazing techniques to learn and tips to take with you to use on your Copic coloring projects.
The dates I will be in Sacramento are Friday, September 23rd and Saturday, September 24th. We have a great group shaping up and I would love for you to join us! Sign up right HERE! Scroll down to Sacramento and get yourself on the list 🙂
Hope to see you soon!
Have a Happy Colorful Day!