Archive for March, 2016
As a high school art student I LOVED fantasy art, the magic of mythical creatures as well as the intricate detail and vivid, rich colors. Imagination International, Inc. is now housing an amazing drawing program for young and old featuring some breathtaking creatures.
Artist Terryl Whitlatch created a world of amazing creatures and is sharing them with all of us.  Not only is she sharing them she is teaching us how to create them ourselves.
On the III website you can go right into Creatures of Amalthea and learn how Terryl creates her creatures, from her story lines and animal inspiration to building her creatures from the bones up. She takes into consideration the smallest details of the how and why of each animal and how they will need to be structured to not only survive but thrive in their own habitats.
I decided to give it a try and picked out one of the 12 animals, the Esquilina, then stepped through the detailed, step by step drawing steps and then tackled coloring my Esquilina in a lengthy list of Copic markers.  I want to share the progression but I am not giving all the steps or the instructions because I want you to check it out in person! HERE
Worried that you "can not draw"? First off I am not buying it, anyone can learn to draw with the right instructions, BUT Terryl even has line art of all of the Amalthea creatures, so you can print them off on your favorite Copic paper and use the steps to color them up.
Now my daughter is chomping at the bit to try one on her own too! In addition to extensive lessons on the creation process, drawing and coloring each of the 12 creatures featured. Imagination International, Inc. has created programs to go along with these lessons to be used with students in a school setting, after school programming and even week long camps.
Honestly I was thrilled to share the program having been an art educator myself and LOVED creating my Esquilina.
Thank you so much for stopping by to take a look!
Have a Happy Colorful Day!
Hippy Hopping today with Hero Arts!
Hero arts asked if the Copic team would like to play along for this month's My Monthly Hero March 2016 kit and I said "Yes Please!"
The kit is FULL of fun stuff: 12 coloring cards on XPressIt paper, coordinating stamps and dies, an Intense Black ink cube (alcohol marker-friendly), extra XPressIt paper, assorted notecards, and a package of gems.
There are even add ons to make your kit go further!
DC184 Ribbon Messages Stamp & Cut: https://heroarts.com/shop-sidebar/dc184-ribbon-messages-stamp-cut/

CL964 Marianne's Flowers: https://heroarts.com/shop-sidebar/cl964-mariannes-flowers/

PS755 Coloring Foundation Book – Flowers: https://heroarts.com/shop-sidebar/ps755-coloring-f…ion-book-flowers/
I played with two of the coloring cards that came in the kit. Here is the first:
I added a sentiment right onto the card with one of the optional Ribbon messages and because the ink that came in the kit works with my Copics I colored the whole image up and got it on a card base wa-la! I used a lot of coloring tips that Marianne Walker shares in her Coloring Flowers Book.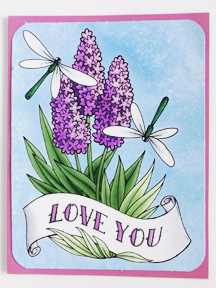 Here is a close up, I added a little bling to the letters and dragonfly wings with a atyou Spica pen but it is hard to see 🙂 Copic Colors Used: B41, V12, V04, V17, G20, G21, G24, G28, YG09, B99, BV20, C0, C1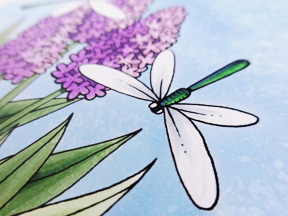 My next card I created with another coloring card and this time added not only a sentiment but stamped some of the matching flowers on one of the blank sheets of paper as well.
I fussy cut and popped everything up and yay, another quick and easy card! Copic Colors Used: YG01, YG03, YG07, YG09, BV00, BV02, V12, V14, Y21, Y35, Y28, YR14, YR18
But I am not the only one playing along today make sure you stop by the other fun stops along the Hero Arts hop today!
https://heroarts.com/my-monthly-hero-is-here-5/ The Hero Arts Blog
http://ilikemarkers.blogspot.com/ Marianne Walker
http://paperfections.typepad.com/paperfections/ Sharon Harnist
http://onehappystamper.typepad.com/ Cindy Lawrence
http://loricraig.blogs.splitcoaststampers.com/ Lori Craig
http://debbiedesigns.typepad.com/ Debbie Olson
http://www.scrapweaver.com/ Michelle Houghton
https://marianagrigsby.wordpress.com Mariana Grigsby
http://stampinlibby.blogspot.com/ Libby Hickson
Make SURE to check the Hero Arts Blog for the details on some prizes as well! Yay Prizes!
Have a Happy Colorful Day!
I have just updated all the current OPEN Certification and Coloring Flowers Workshops. All are open through April, we only have 2 locations left in May after these classes so check them out and see if we are in your neighborhood or a near by state :-). Check out the dates, times and locations in my sidebar or HERE, or at the Imagination International, Inc. site HERE
Then in May we also start adding a few more Workshop classes. If you missed them last year the More Whimsical Faces and Hair, Vintage Values and Mono-Tones and Clothing and Accessories Workshops are coming around again so make sure to catch them when they stop near you! I will post again when these classes start opening up!
Hope you are having a happy Colorful Week!