Archive for February, 2016
Did you know that there is a new Copic case out there? It will carry all your Copic sketch, Ciao or Various Inks in style!
The case is a heavy plastic and aluminum exterior with a sturdy handle and 2 latches that can be locked if desired.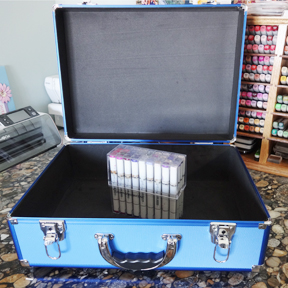 The interior is lined with a thin foam layer throughout and squeezes down on the plastic storage cases that fit the Sketch, Ciao, and Various Ink. They squeeze down enough that even with one smaller plastic container in the center of my carrying case I can close and latch the lid, shake the case and the Copics stay put.
The case fits the 72 marker holders perfectly! Here is a shot with 5 plastic 72 sketch marker holders. This will hold 360 sketch markers and look, I have room to spare! Most days I would not be carrying all my markers, but I can and have space for my small sketch book, a bag of Multiliners and packet of images if I want. I could even tuck an ABS-1 Air Brush in that space hmm…
Lastly it also has a shoulder strap that attaches to metal rings on the sides of the carrying case, so if you really load up you can carry the weight a little easier.
The cases come in 4 colors
13.5 x 18 x 7″
For those looking for a different option for carrying all of their markers this could be a good fit. You can find them at Imagination International, Inc. and slowly now at other Copic retailers.
Have a Happy Colorful Week!
Look out Atlanta here I come. In 5 and a half weeks I will be flying my way to (another new destination for me) Atlanta, Georgia! I will be teaching the Copic Standard and Intermediate Certification as well as the brand new Copic Flower class. All three classes have been open for registration a couple weeks now and are filling fast so if you would like to come play get signed up today!
In the mean time here is a little inky fun for today! I created a VERY SIMPLE background for a little Valentines card for my Doodlebug. I used my Copic Various Ink and created the background on a shiny photo paper. I also used a straw for this particular technique, mine happens to be a milkshake straw so don't let the size throw you of 🙂
Step #1 – I dripped 3 dots of one of my colors onto my paper.
Step #2 – I blew through the straw quickly splattering the ink.
Step #3 – I repeated the process with 2 more colors.
Like anything else you might have to play a little with colors that work well together!
Step#4 – Patiently wait for the ink to dry (ha ha) and attach your new paper onto your card!
I used Various inks in BG00, YG01, B02 for the background, the stamp is by Taylored Expressions and the Copic colors used are FYG1, YG01, FRV1, RV04, BG000, Boo. I also use my Kirarina Wink to create the doodled outline on the card. It worked great over the ink and on the slick surface!
Hope you have a Happy Colorful Week!