This past week I had a page as part of an article on Artsy Storytelling in Scrapbooking.  The idea originates from Debbie Hodge's "Story Styles Lookbook". The Artsy Storyteller uses artistic techniques on their page to help tell the story.  Here is my Artsy page:
The Cherry On Top by Michelle Houghton | Supplies: cardstock; Colorbok and Core'dinations, watercolor paper; Strathmore, spray ink; Dylusions and Adanorak, modeling paste; Golden, acrylic dots, puffy stickers and chipboard arrow; Freckled Fawn, sticker letters; My Mind's Eye, chipboard letters; American Crafts, doily; Bo Bunny, ink; Copic and Sharpie, book plate, ticket and brads; unknown.
There is a lot going on on that background so here are a couple closer looks:
This first shot is before adding any other elements.  I had JUST added the top layer of ink splatters over the still slightly damp modeling paste.
Here is one angle of the finished layout, you can see two things changed as the media dried completely. More of the underlying ink base layer sealed into the modeling paste middle layer and darkened the middle layer. Also the splatters softened as they soaked in and dried.
Here is another angle of the finished layout, The modeling paste did not get quite as dark here and you can barely see the splatters that hit the inky background, they ended up a little brighter then the base and with water mark rings.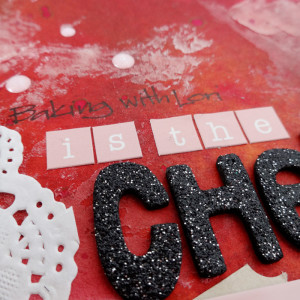 I love baking with this girl!  She is amazing in the kitchen and it blows me away as her Mom to watch her flourish here, I could not be any more proud of her.
Check out all the inspiration at Get It Scrapped HERE.
Happy creative days to you!