Welcome to the Colorful Copic & ART SQUARES blog hop!
You are in for treat today as Copic pairs up with the ever popular Art Squares by Inchie Arts. There are so many things to love about this pairing!
Did you know:
Art Squares are the perfect canvas for creating small-format art!
They come in 6 sizes (1 inch, 1.5 inch, 2 inch, 3 inch, 4 inch, and ATC).
Art Squares come in 7 colors (black, dark gray, light gray, kraft, dark cream, light cream and white).
They are perfect for wet or dry mediums.
Copic markers and inks look amazingly vibrant and deliciously rich on Art Squares!
Copic multiliners glide smoothly across the surface.
Work on the "top" or toothy side for the best results.
You can mix and match your mediums! No warping, bending or curling.
You can find more information about both Copic products and Inchie Art Squares at the links below.
All In An Inch – Inchie Arts Blog
Our teaching and design teams have been challenged to put marker (or ink) to these precision-cut matboard surfaces and see what happens! (You are not going to BELIEVE these samples… trust me – they rock!)
I have 3 cards to share with you today.  I had way too much fun with my squares and can't pick just one to highlight.  In addition to the 3 below I am going to post my other creations with my Inchie Art Squares and Copic over the next few days.  I am starting with 3″ Kraft colored squares.  Tomorrow I will be sharing 2″ white squares and Sunday will highlight 3″ white squares and a few more Kraft squares as well!
This fist card uses very traditional color techniques with Copics.  I stamped the image with a Memento, Rich Cocoa stamp pad and then used the following colors; Y35, Y38, Y28, B91, B95, G20, G24, G28, E43, E43, E47, Y21, Y28, YR00. E93, YG63, YG66, B00, BG000, 0.  Notice in the color selection a lot of my lighter colors are not present, the Kraft be did effect my color choices here.  Blending was extremely easy and happened mostly as I was coloring making it un-necessary to go back and blend layers.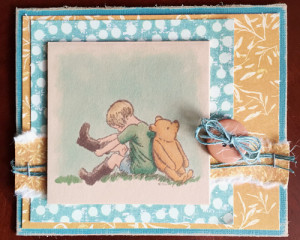 Other supplies:  cardstock; Core'dinations, patterned paper; Prima, twine; American Crafts, tiny attacher; Ranger, button; Unknown.  Here is a close up of the image.
This next card is using stamps by Dina Wakley and Ranger.  I used a much looser coloring technique,after stamping with Memento Tuxedo Black, lots of scribbling, overlapping and no back blending. I used B60, B63, B66, B69, Y38, YR04, YR07.
Other supplies used:  cardstock; American Crafts, patterned paper; Basic Grey, journal card; Maya Road, Washi tape; Freckled Fawn, Target office supplies and unknown, dots; My Minds Eye. Here is the close up:
The last card I am sharing today is again featuring a Dina Wakley stamp (The extra black on the bird's belly is poor stamping on my part, not part of the stamp, sorry Dina!).  The colors used on the bird are Y17, E02, E04, E09, E29.  On the bird I used the marker loosely to show the texture of the bird.  For the background I used my Various Ink Refills in RV66, V04, V17, And used them with a brush and colorless blender like watercolor paints.  It created the beautiful mottled background for my birdie.
Here is the close up of my coloring.  I also Copic died the silk that is tied into the pink flower.  Other supplies: cardstock, twine and flower trim; American Crafts, patterned paper, Basic Grey, burlap; Canvas Home Basics.

Hop along with these talented designers as they show you some more interesting and exciting ways to pair up two great products!
Michelle Houghton << You are here
Happy Coloring! And come back both Saturday and Sunday to see more Copic and Inchie Art inspiration!
---
4 Comments
---
Leave a Reply